MAXIDEALS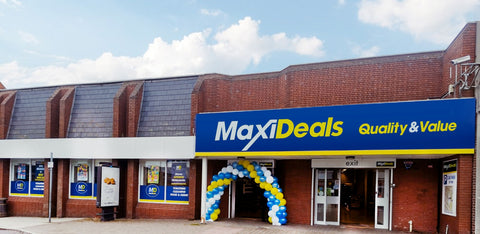 MaxiDeals - is the new name in convenience shopping offering quality, great customer service, and value to our customers.
This philosophy underpins what we are about. At times like this we know that people are looking for the great offers that we provide on a huge range of essential items.
A Growing Business
Already successfully established in many Midland areas and with strong financial support we are rapidly expanding our number of stores to broaden the opportunity for people who enjoy shopping in the traditional way.
Another 20 stores will open  by the end of the year, every one bright, cheerful and full of  bargains for all the family –  household, garden, pet, car/diy, seasonal, confectionery etc.
Our plans for next year are even more ambitious and we are actively looking for stores of between 6000 and 12000 square feet to allow more people to enjoy the MaxiDeals store experience.
However, with a growing social media presence and online store we are there for everyone even if a Maxideals store has not yet opened close to you.
Check out maxi-deals.co.uk to see what great offers can be had today.
Company registered address:
760 High Road, North Finchley, London, England, N12 9QH